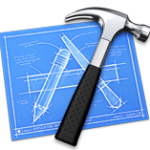 There's a procedure on the Apple Developper Site: How do I rename my application in Xcode?
Nice … but!   If you change the forder name, you'll have this error message:
Command/Applications/Xcode.app/Contents/Developer/Toolchains
/XcodeDefault.xctoolchain/usr/bin/clang failed with exit code 1.
To resolve Go to TARGET / Build Settings verify and modify the two following repositories:
info.plist File
Precompile Prefix Header / Prefix Header

Put the new path and name of the App … and Voilà!